Welcome to Atlas Edge Staffing Services!
We have many things to offer our customers.  Are you frustrated with paperwork and running your own payroll and workman's compensation insurance?  That's what we do!  If you have that under control, then let us help out when you get too much work to handle —we'll provide you with a temporary employee to help with the big jobs or busy seasons.
We can do temporary, part time, full time, permanent, or seasonal assignments.  We will provide all of the job advertisement, pre-screening of applicants (drug screens, background checks, reference checks, DMV reports, etc.), and we'll even help to schedule the interviews for you!  You choose who to hire and on what schedule, we just get qualified applicants to your door to choose from!
Why use Atlas Edge Staffing?
Being in business whether it's private enterprise, government, or nonprofit can be frustrating. A staffing service is supposed to take a lot of the stress off you and your company. But not all staffing services are created equal or perform in the same manner. Atlas Edge Staffing has one simple rule, we mold to your company. We become a part of your business. Atlas does the payroll how you want it to be done. We accept compensation in the way that is most convenient to you. We follow your company policy when it comes to drug screening, light duty work, disciplinary action and time off. We are your company's human resource division and we perform according to your needs. Atlas Edge Staffing will make your life easier and less complicated. Not all staffing services can make that claim. We can prove it.
Staffing Services
Are you looking for a new employee(s) but don't want to go through the hassle of screening, reference checking or interviewing hundreds of new applicants? Well that is where Atlas Edge Staffing comes in! Since 1996 Atlas has been screening applicants and helping place them into the local work force. Every day applicants are selected, background checked, drug screened, reference checked and interviewed. Our data base of applicants has grown into a large selection of individuals with different skills, talents and personalities.
When you contact Atlas Edge Staffing it opens a door to a large array of high quality employees that has taken almost two decades to build. People from all walks of life and vocations are yours to choose from. With a click of a button we can bring you carpenters, bookkeepers, executives, mechanics and so much more. All you have to do as an employer is pick up your phone and call us and you will instantly have hundreds of reliable applicants at your finger tips. Think about it, you make a phone call and get to choose from the best in any vocation. All without placing an ad, posting a job or answering numerous phone calls. On top of this you have no unemployment claims to reply to, no workers compensation claims to worry about, no garnishments and no payroll to handle. Call us or ask for a quote on line, you'll be glad you did.
Free Job Advertisement

Atlas Edge Staffing utilizes a media sweep method in its recruitment. TV, radio, newspapers; social events, and of course the mighty internet are all put into play when qualified workers are needed. All of our advertising methods are working year-round to keep a steady supply of valuable people available to our customers. All skilled jobs are advertised heavily to guarantee a large selection of qualified applicants. If you have called Atlas Edge Staffing for a much-needed employee. You become part of a media blitz that will be seen, heard and experienced by potential workers locally, statewide and even nationally. All of it costing thousands each and every month and at no cost to you. Our business, really is, people.
Payroll Management
Payroll is one of the most complicated and costly aspects of running your own business. With all the wage laws, taxes, garnishments and withholding to handle, it can be very time consuming and costly. This is why Atlas Edge Staffing offers its employers the option to have our payroll accountant take care of it all for you.
Contact us today for more details!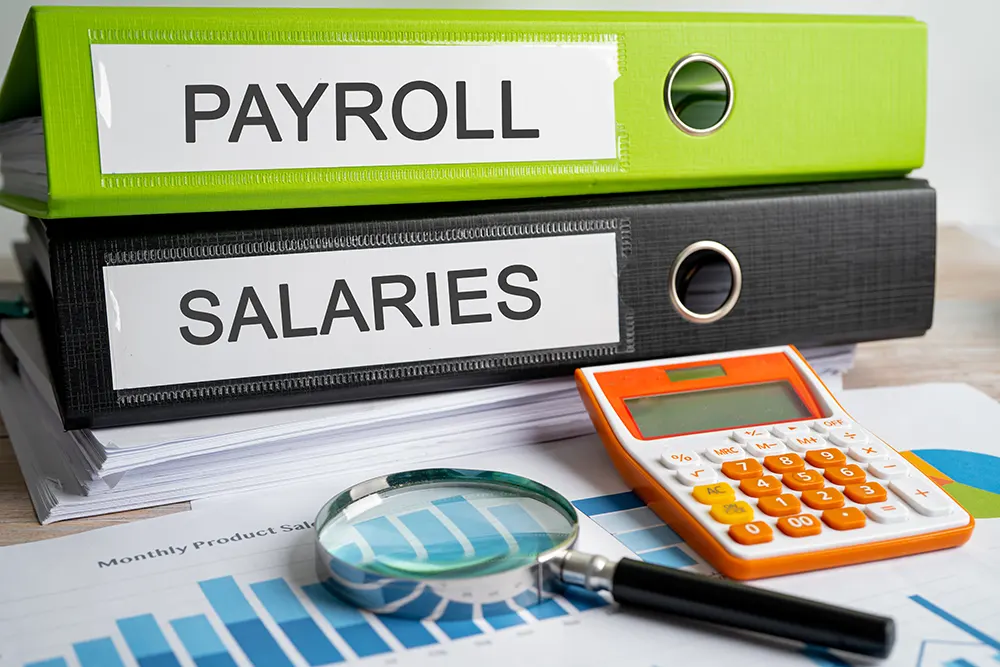 Flexible Payroll Schedules
Atlas Edge Staffing is unique in its malleability. The entire payroll service molds to your companies needs. Do you need your employees paid every week? Every two weeks? Every month? No problem, we offer the most flexible payroll out there. Our number one job is to make your business life easier and less stressful. So, you can do what you do best and that's, running your business.
Hand Delivery of Payroll Checks to Client
For seventeen years Atlas Edge Staffing has hand-delivered payroll checks to its customers. An internal, Atlas Edge, employee appears every Thursday and hands you your company payroll checks. It's for security and for the convenience of your employees. It has proven to be the safest and surest way to get your employees paid and on time. There is no charge for this personal service and it is an option, not required. But it is yet, another advantage to using Atlas Edge Staffing Services.
Free Employee Screening to current clients
Atlas Edge Staffing provides all of its staffing employers free drug screening and free background checks on any employees provided by Atlas Edge, at any time. As long as the employee is on the Atlas Edge payroll, you as the employer have the right to ask us to drug screen them in our office or at your place of business. It is a free service and one of the advantages of using our service. Any screening would be done in a confidential and professional manner. It is a vital part in backing up our commitment to provide your company with quality employees.
Workman's Compensation
We take the stress of Worker's compensation out of your hands, as we are running your employees should anything happen to them it will be under our worker's compensation. Not running your employees through us but you are using one of our other services? That's fine too! Report any incident to us and we will help you figure out what needs to happen next. We will also be your contact for SAIF so we can handle the stress